PRIVATE PILATES SESSIONS
We design original Pilates classes tailored to the particular needs of each client.
We are committed to private classes only because it allows us to offer a personalized service. We design a program that addresses your physical needs and adapts to any possible injuries you may have, guaranteeing a unique and effective training.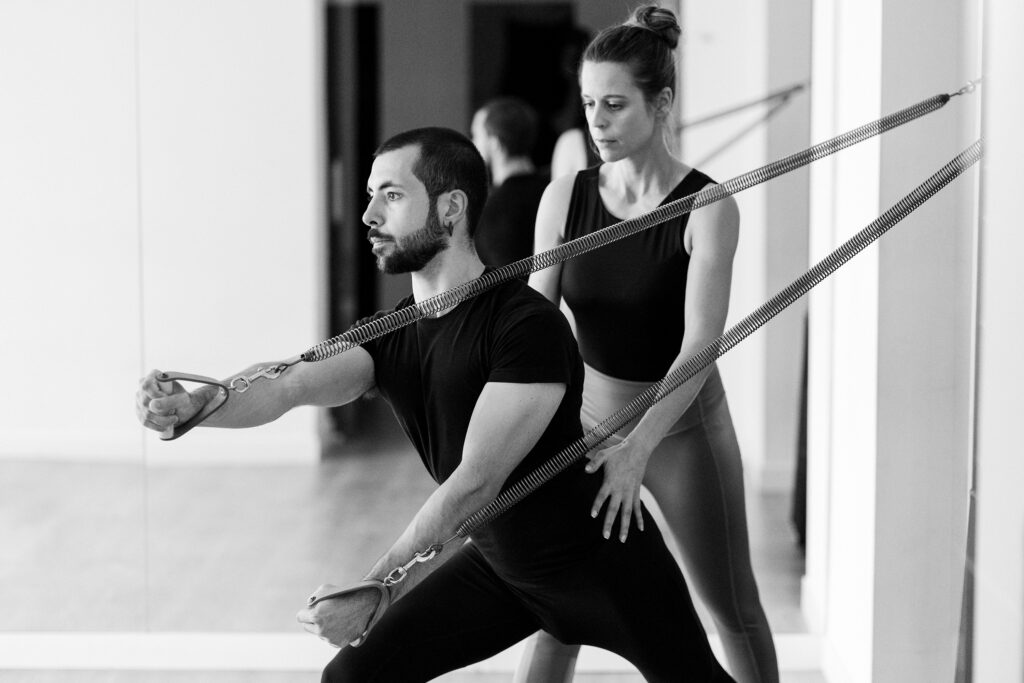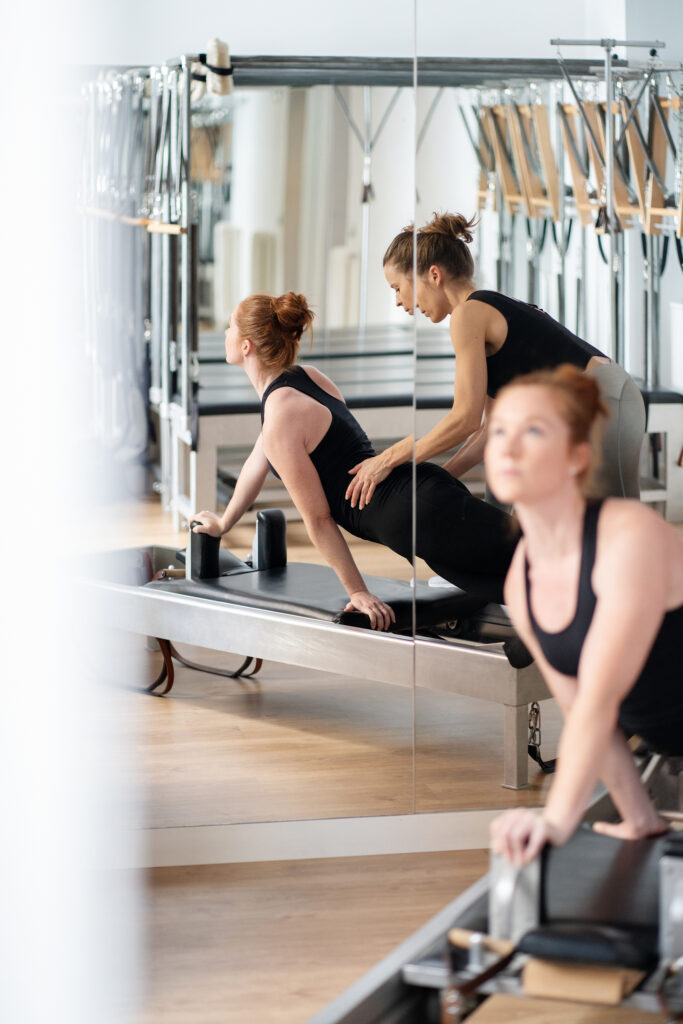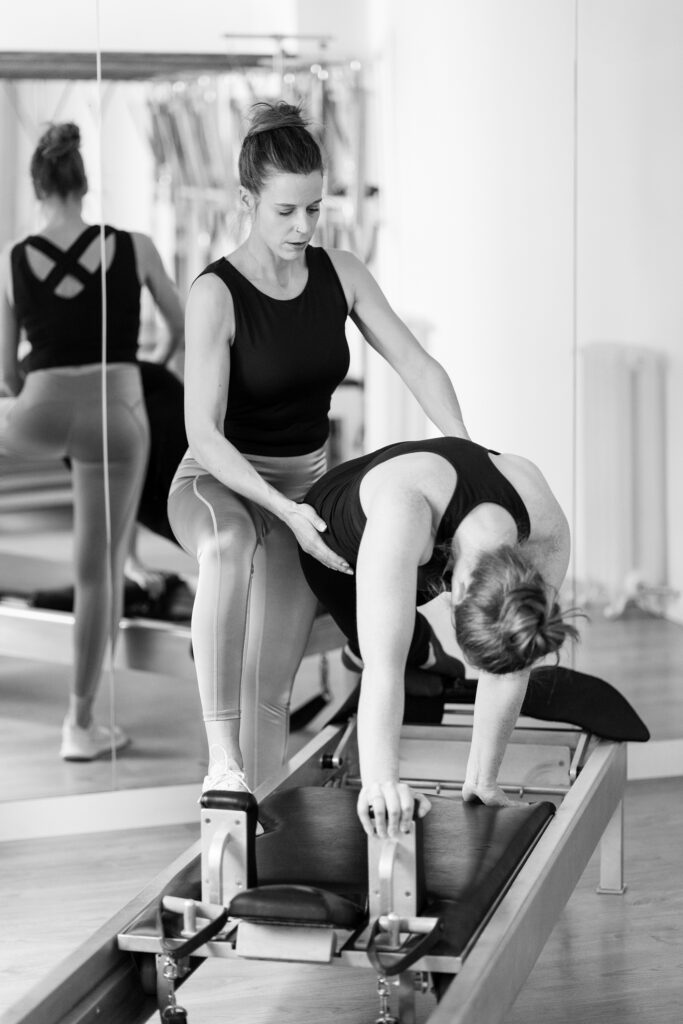 We can help pregnant women, children and even people in their 90s. We simply design classes tailored to your needs.
With the original Pilates method we help the uniform development of the body, improving its strength, flexibility, agility and energy. It is perfect to correct bad posture and restore physical vitality, invigorating the body, mind and spirit.
– Low back pain treatment.
– Cervical pain treatment.
– Back pain treatment.
– Scoliosis treatment.
– Joint pain treatment.
– Pilates as a sport.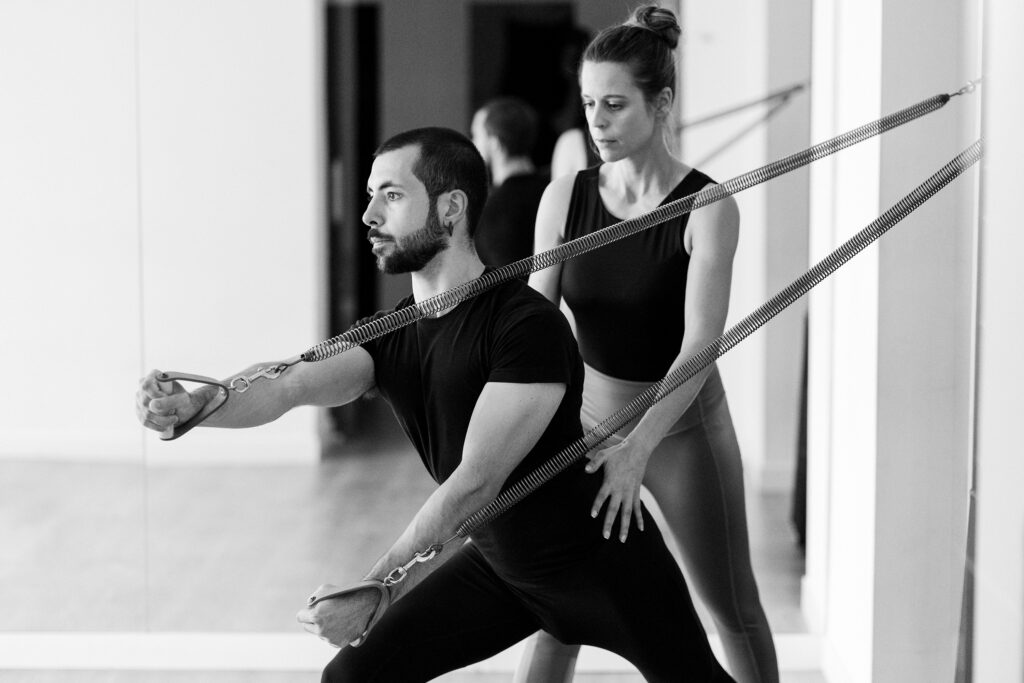 TESTIMONIALS
What our clients say about us
"
Pilates with Low Back Pain
I was medically prescribed Pilates to preserve joint mobility and prevent spinal deformation, and my expectations have been exceeded. Not only have my injuries improved, but I also feel much better physically, the process was quick and very safe thanks to the constant supervision of the Elite Pilates teachers.
"
Pilates with Low Back Pain
I was recommended Pilates by my traumatologist to alleviate my low back pain caused by an injury. I have been attending Elite Pilates since February 2012 and I am delighted. My muscles are much stronger and I have learned to take care of my back. Also, Silvia, Laura and Maria always make sure that you feel welcomed and have a good time.
"
Pilates with Low Back Pain
After not having much success with other treatments for a herniated disc, I decided to start doing Pilates to improve my back pain. I had some doubts when I first started, but I can say that it worked. Thanks to Pilates, you not only get rid of the pain but you also achieve better elasticity and abdominal strength. I have been doing it since 2011 which should tell you how much I think it helps.
"
Pilates with Low Back Pain
I decided to start doing Pilates thanks to my sister, she recommended me to try it and find a solution to my low back problems caused by hyperlordosis.
"
Pilates with Low Back Pain
In 2007 I was diagnosed with a couple of disc protrusions, the doctors insisted that I start doing Pilates. A very reputable physical therapist recommended me Elite Pilates. They were very detailed on the study of my case before starting the sessions, their professionalism and dedication were incredible.
"
Pilates with Low Back Pain
I never get bored by the Pilates method, it makes every day a challenge to the teacher and myself, and that's what makes everything work. You just have to be constant, work hard and find a good professional.
"
Pilates with Low Back Pain
After suffering a discectomy, I spent a few years with some pain, I thought I would never recover. The doctor told me that the procedure generated some movement in parts of my spine, causing some problems. Pilates has been the best solution, focusing on two fundamental aspects to overcome this pathology: stretching and the strengthening of the muscles that surround the spine. All it takes is being consistent and having a little patience at the beginning, in my case, the improvement has been fabulous.
"
Pilates with Low Back Pain
I started doing Pilates in 2005, after a sciatica that barely let me get out of bed. Only after continuous stretching and multiple sessions I finally got my left leg working again. Being a journalist, I sit for many hours in front of my computer, Pilates is my medicine. I improve my posture and stretch a lot. It is tough, but I feel like a new person when I'm done, even when I was pregnant, I never had any problems.
"
Pilates as a sport
The greatest thing about Pilates is that your posture, your body and by extension your daily life are constantly improving thanks to the help of excellent professionals. Feeling better every day is very addictive.
"
Pilates as a sport
I am very happy that I decided to practice Pilates. Despite not having any injuries, doing Pilates helps you feel better. Pilates makes you aware of your body and helps your posture, avoiding possible injuries. It can complement other sports but it is also a complete exercise for those that cannot practice them. The most important thing is to find a serious and professional place, like Elite Pilates, where you are permanently supervised by amazing teachers. I encourage everyone to try it because it will hook you.
"
Pilates as a sport
Pilates is proof that men can do more than two things at the same time. My body has completely changed since I started doing it, I usually do other sports and Pilates has been a key complement to do them, it helps me avoid injuries, mainly because you work on your posture in class, strengthen and stretch your muscles. I recommend it to everyone.
"
Pilates with Cervical Pain
I started doing Pilates at the recommendation of my Primary Care doctor and my Neurosurgeon, after a series of injuries in my cervical and low back area. My specialist told me that I should exercise, but in a controlled environment because I have a delicate neck and otherwise I might injure myself and cause more pain. Since I started Pilates at this center, not only are my back and neck pain gone, but I have also improved my strength, flexibility and posture. I am extremely satisfied and recommend it to everyone.
"
Pilates with Cervical Pain
My name is Maria and I am a retired teacher, the job caused me soreness in my neck and shoulders, this is why I started doing Pilates. This center was recommended to me by a friend and the biggest highlight is the superb quality of the classes, they are very focused in posture. It has helped me improve the way I sit and walk, which has made my neck pain disappear. I am also stronger and my abdomen has flattened. I recommend it to everyone because it is a very good and controlled exercise which can be done by anyone.
"
Pilates with Cervical Pain
Hello everyone! I have been doing Pilates since 2006. I started because of a medical recommendation due to cervical osteoarthritis and pain caused by bad posture at my office work. I am lazy by nature, but I managed to do it. I think of it as my weekly aspirin, it helps me be aware of bad postures and re-educate my body. It seems difficult, but with your own perseverance and the professionalism from the teachers at the center it can be done. I won't lie to you, it's tough, but it's 100% worth it.
"
Pilates with Joint Pain
I started doing Pilates in September 2012. I had a hip problem since birth and it started to get worse, some days I wasn't even able to walk because of the pain. A friend recommended Elite Pilates to me and after a few months I am noticing how I have been constantly improving and feeling better. I am able to stand for longer periods of time and with less pain. I think I have found the solution to my problems!
"
Pilates with Joint Pain
Three months after a breast cancer surgery with the corresponding axillary lymphadenectomy, I decided to attend private Pilates classes to try and recover the mobility of my arm. After a few months of exercise, my arm had regained full mobility, surprising even my doctors. Also, as an added benefit I improved my posture, strengthened my back and gained flexibility, making my quality of life better.
"
Pilates with Joint Pain
I was diagnosed with chondromalacia in one knee, I started going to Elite Pilates and I must admit that after all this time the improvement is beyond my expectations. Practicing the method, the muscles around the knee joint have been strengthened, significantly reducing the discomfort. During training, my teachers noticed that I had a problem with my foot alignment, so we have worked on it and it has helped my stabilization and strength in the feet.
"
Pilates with Joint Pain
I wanted to improve my posture and strengthen my muscles to avoid back pain caused by office work so I decided to join Elite Pilates several years back. I also had a problem with my knees, so I needed to avoid impact sports. With Pilates I have managed to strengthen my muscles and have gained elasticity, making pain disappear. I recommend it to everyone and, in particular, to those who want to exercise and have any ailments since it is a very controlled exercise that helps you avoid injuries.
"
Pilates with Joint Pain
I was recommended Pilates back in 2005. They told me that it was very good for stretching, mobility and coordination. I am in my 80s and I have osteoporosis, osteoarthritis and significant scoliosis. With Pilates I have noticed an improvement in my agility and coordination, also, pain is rarely a problem anymore. I am delighted and my body misses it whenever I can't attend class.
"
Pilates with Scoliosis
Hello everyone. I have scoliosis, which mixed with bad posture when at my work where I sit many hours in front of a computer, caused me to constantly have back pain. But since I started doing Pilates I have seen an incredible improvement. I have strengthened my back muscles and improved my posture, making my back pain disappear. I have to confess that the laziness in me sometimes makes me not want to work out, but whenever I finish the class I leave with the feeling of having worked my whole body without getting exhausted and feeling completely stretched. I recommend it, it will be worth your while.
"
Pilates with Scoliosis
I started doing Pilates because I needed to improve my posture due to my scoliosis. This is also why I made sure to find a professional center where the teachers could help me find what was good for my condition. I love that the Elite Pilates team take their work very seriously. Thanks to Silvia, Maria and Laura, I have greatly improved my physical condition and my posture.
"
Pilates with Scoliosis
I have been doing Pilates two days a week since 2008. I started practicing it due to the back pain I suffered, caused by scoliosis and several lumbar protrusions. The Pilates method has helped me improve my quality of life. It is rare that my back bothers me, thanks to the strengthening of my muscles. Stretching has also helped me be more agile and flexible. The improvement of my posture helps maintain the correct alignment of my back and prevent my scoliosis from worsening. I can recommend the practice of the method to anyone who wants to use it as rehabilitation for a back injury, it really works and makes you exercise while you are at it.
"
Pilates with Scoliosis
A few years ago, I woke up one morning and couldn't get up from my bed. An excruciating pain was going up my back and out of my chest. I went to the emergency room and ended up in the traumatologist.